SantaFean Salutes
Extensive Care
Dr. Andrew Lustig delivers care both at home and abroad
Somewhere into his third lucrative decade in New York's television industry, Andrew Lustig realized he needed a change: a lifestyle change, a career change, a change of venue—changes that might even include rewards beyond the almighty bottom line. Toward that newfound end, Lustig, now 47, immediately set to work on transforming his life. He left his job, he became an emergency medical technician, he ate better, he exercised more, he took time to relax (riding horses, motorcycles and spending time with his children), then he sought out a better place to live.
That better place turned out to be Santa Fe, which he has called home since 2003. Soon after he received his degree in Naturopathic medicine, a path that emerged directly out of his EMT experience. "When I was working on the ambulance, I realized that my relationship with the patient lasted about 20 minutes—or until we got to the hospital," Lustig says. "There wasn't time to watch a patient's progress."
In turn, his work as a naturopath led him even further afield than his ambulance runs in and around Santa Fe. As a medical volunteer with Amazon Promise, an organization that promotes sustainable medical relief in the Amazon basin (amazonpromise.com), Asante Africa Foundation (asanteafrica.org), a nonprofit aimed at providing education for East African children, and Helping Hands Organization (www.helpinghandsusa.org), Lustig has dispensed medical care, aid, and relief in Peru, Kenya, and Nepal. "In most Third World countries, the diseases are similar, so it's not like you're starting at ground zero," notes Lustig. "You know they're dealing with HIV/AIDS, parasites, unsanitary conditions, inadequate nutrition, infant mortality, and various insect and snake bites."
In between his now-annual medical team trips to the Burning Man festival, Lustig ventures to the Amazon jungle and Africa about three times a year—each trip about a two-week stint, all funded out of his own pocket and through donations, and in which Lustig hauls thousands of donated herbs, tinctures and homeopathic medicine in his suitcases. Companies that make these generous donations worth thousands of dollars, include Heel, Inc., Emerson Ecologics, Integrative Therapeutics, GAIA Herbs, Botanic Choice and Trace Minerals Research.
"If I can treat somebody to improve their health to any degree and just witness that, it's really satisfying," enthuses Lustig. "When I used to run a large business, the product was money. Now the product is health and well-being. That is just the ultimate."
---
HEALING IN HAITI
Naturopathic doctor takes his skills to country still reeling from major earthquake months ago.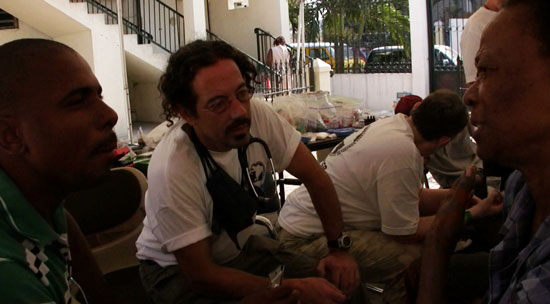 It was the concrete dust in the air of Port-au-Prince that sent Santa Fe naturopath Andrew Lustig home after a week. "I usually stay (on a humanitarian mission) longer, but I had to leave for my own health," Lustig, who is also an emergency medical technician, said of his early April trip. "I'll be going back, though."
Lustig is both a naturopathic doctor, which means he treats patients through an array of natural therapies, homeopathic remedies and holistic approaches, and a licensed Emergency Medical Technician-I. He is a member of the New Mexico Disaster Medical Assistance Team (D-MAT) that has responded to many natural disasters in this country and internationally. 
When the 7.0 quake struck Haiti on Jan. 12, however, Lustig was in Nicaragua on a humanitarian mission and couldn't deploy with his DMAT team, he said. "I finished up in Nicaragua and when I got back I did work here for a while and then went to Haiti," he said. From March 29 through April 6, Lustig served with two organizations in Port-au-Prince: Homeopaths without Borders and the International Medical Corps. This kind of help is intense, he said. "It's just work, eat, sleep, work ― doing what we can to help," Lustig said.   
From 7 a.m. to noon he worked as a Naturopathic Doctor, and the rest of a long day, in a different part of the city, he worked in large military tents erected beside what remained of the Port-au-Prince hospital. The tents served as emergency medicine centers. Most of the injuries we treated included lacerations, kidney infections, viral/bacterial infections, eye issues, uncontrolled diabetes, dehydration, pregnancy issues, high blood pressure, sepsis, poison ingestion, gastro intestinal issues, etc., he said. "We were not doing amputations; those crush injuries had been mostly treated by the time I was there," he said. "But we were dealing with diseases related to poverty and hygiene issues. Most of the people are still living in tents ― if they had tents ― and the rainy season had begun. They're living in closer proximity to each other as well as waste, human and otherwise. I saw people shower in the streets with dirty water from pools in the street. That population comes to the ER very sick."
As a Naturopathic Doctor, we treated similar problems, but were also effective in treating many emotional issues, he said. "It was not uncommon for people who still had a fairly nice house standing to be sleeping outside. There was a lot of fear, and there are very effective homeopathic remedies for emotional distress."
"What Haiti needs now is a sustainable plan for health care, sanitation, and economic growth."
DR. ANDREW LUSTIG
Volunteered in Haiti
Lustig spent the first 20 years of his adult life building a corporate media business and chasing financial success. Some stress and health issues, as well as lack of time with his children, made him reassess his life. He began his career in healing practices by becoming an EMT in Connecticut. Then, he studied to become a naturopathic doctor, moved to Santa FE and began his practice. His regular humanitarian trips in this country and overseas are a way of expressing gratitude for his own fortunate circumstances, he said. He travels frequently to Africa, Asia and Central America to provide health care.
"It used to be that I measured my success in dollars, profit, and business growth," he said. Now, he added, "I measure it in how many patients I treat, and what kind of care I have   provided them. You can do that here in New Mexico ― and I do ― but the gratitude that you receive in developing countries, where they don't have any sense of entitlement, is tremendous. That will keep you going for a while."   
Lustig said there's no conflict between his half-conventional and half-alternative style of working. "The place for Western medicine is emergency medicine," he said. "The diagnosis and technology that Western medicine can offer is amazing.
"Homeopathic medicine,   which is natural and holistic, is also effective for acute care, but particularly good for long term palliative treatment. In a situation like this, the two can complement each other."  In addition, for continuous care, homeopathic medicine offers benefits for developing countries, he added. "The medicines are not patentable, so they are cheap; the treatment often does not have side effects and symptoms that require other medicines to treat, and it does not have toxic effects on other organs in the body," he said.
Lustig took approximately 7,000 pills, powders and   herbal tinctures with him to Haiti, and he and other homeopaths used them all. The medicines were donated by manufacturers.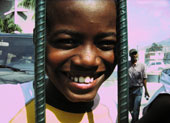 "The entire world is in Haiti right now," he said. "I worked beside military doctors from Italy and Brazil. The Haitians' eyes are wide open. They have never seen the resources that this international effort brings. They've rarely ever been given thousands of sacks of rice. The lines for those foods extended for miles." Eventually, the NATO forces and others will go home, Lustig said. "What Haiti needs now is a sustainable plan for health care and sanitation, and for economic growth," he said. "What happens way too often in these disaster efforts is that we come in and offer immediate treatment, but we can't offer continual care unless we stay there or set up a clinic.   
"Everywhere I go, no matter how much we do, the question is the same: 'When are you coming back?' I try to stay in touch. I make continual donations to places I've worked," he said. "I'm trying to continue to send medicines to practitioners who are based there. And in Haiti, I do hope to return. I will go back."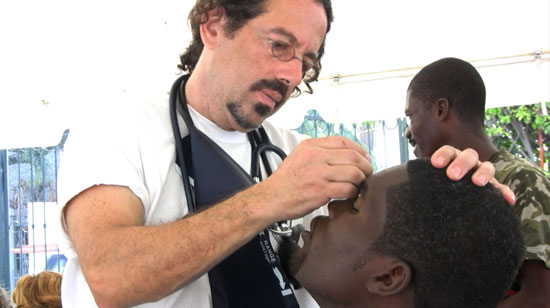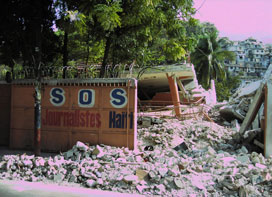 ---
Disaster relief in the Philippines
Dr. Andrew Lustig returns from Typhoon Haiyan
---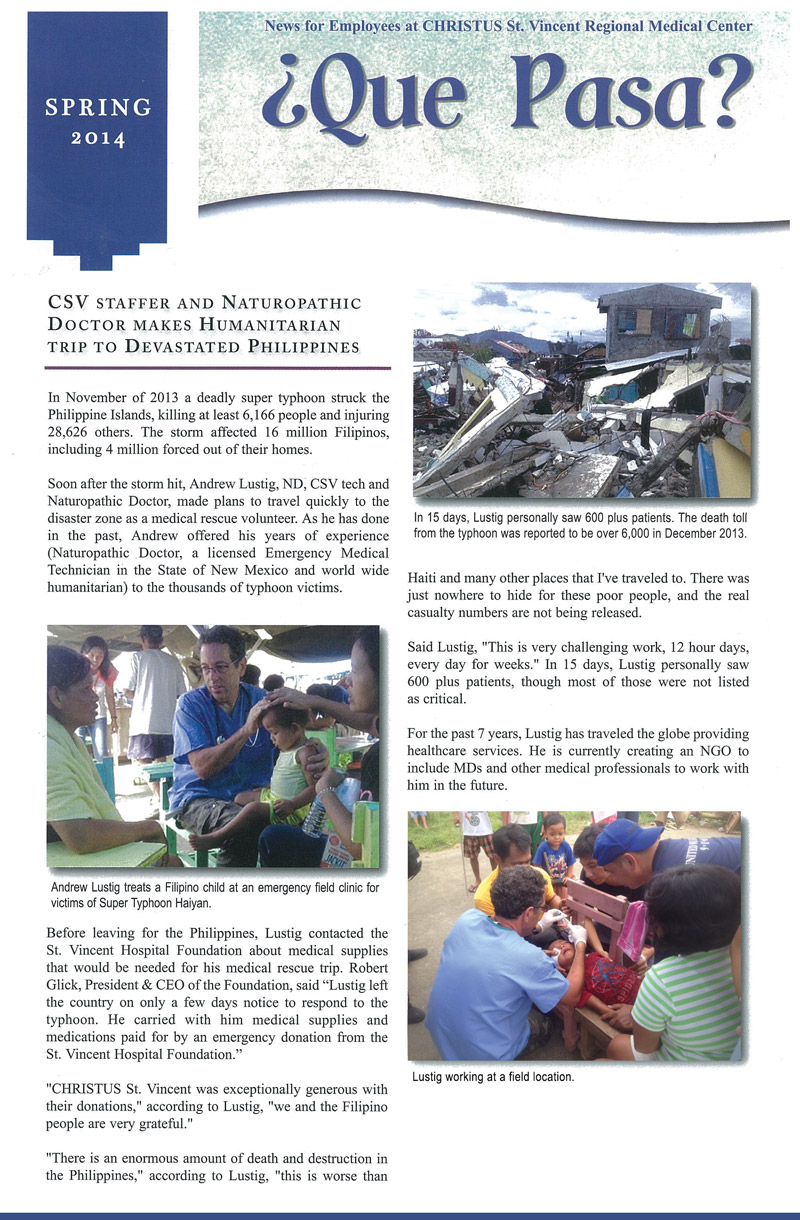 ---
Doctor Transports Medicine to Lamu, Kenya near Somalia Coast:
Andrew Lustig, ND, assists in Building New Medical Clinic
---
Naturopathic Practitioner Aids A New Cause
Treats 250 people in Africa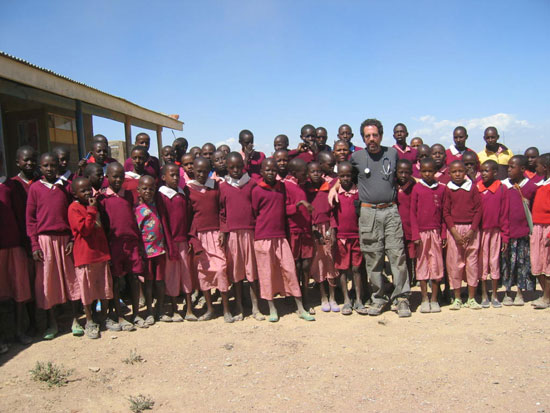 For the past several years, Dr. Andrew Lustig, a Naturopathic practitioner from Santa Fe, has been traveling to countries where people need medical care. But this year he found another cause — fighting for the rights of young Kenyan women.
During his travels, he came across two people — Hellen Nkuraiya and Salaton Ole Ntutu — who were working toward ending forced marriages and female genital mutilation.
"What's very unique about these people is they are saving young girls, who are as young as 8 years old and up to their teens, from forced marriages and forced circumcisions," Lustig explained. He said that while he respects tradition, he also respects that two people from the Masai tribe are looking to offer young girls, through education, a choice.
Nkuraiya wanted to help because of personal experience.
"Hellen was a child who was forced to marry," Lustig said. He noted that oftentimes young girls are forced to marry a much older man in exchange for some good that could benefit her family — such as a cow for the father, Lustig said.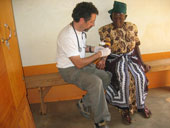 "In order to marry, these girls must be circumcised, a process that sometimes kills them because they bleed to death," he said. "There are no anesthetics, so it's also very painful."
This type of mutilation leads to lifelong problems for the women, including increased risk for contracting infections, Lustig said, especially during childbirth.
And if their husbands die or cast them off, they are not allowed to remarry, Lustig said. "Young girls at 12 could be life-long widows."
Nkuraiya and Ntutu's option is education. They enroll the girls in school so they can aspire to a career with the help of an organization called Asante Africa Foundation.
"They are putting them in school and showing them other ways of living," Lustig said.
Nkuraiya and Ntutu have helped about 40 women.
"Through the process of formal education, these girls make different decisions for themselves," Lustig said.
"What's very unique about these people is they are saving young girls, who are as young as 8 years old and up to their teens, from forced marriages and forced circumcisions," Lustig explained.
DR. ANDREW LUSTIG

In addition to finding a new cause to support, Lustig offered free treatment to approximately 250 people. This trip was different than his other trips to places like Peru and Nepal, because there is such a higher concentration of HIV and AIDS in Kenya, he said.
"We worked with AIDS and HIV patients, who were supplied with both herbal and nutritional supplementation," Lustig said.  He also treated the side effects of the anti-retroviral drugs that are given to patients with HIV and AIDS by the government. "I met very few people who did not have HIV-1, HIV-2 or AIDS."
"The ARVs have a whole host of side effects," Lustig explained. "Often times we are helping them with those side effects: headaches, dizziness, nausea, pains in their legs and other things."
The patients received a formula made from fermented cabbage, garlic, olive oil, turmeric and other ingredients that can help patients stay at a point "where AIDS and HIV are not necessarily a death sentence," Lustig said.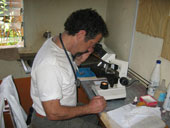 He hand carried some 7000 pills, powders and tinctures into Africa from America, and cross-crossed the country, visiting different villages and clinics.He gave out free antiviral solutions, antibacterial formulas and neutraceuticals — many of which were donated by Heel Inc., Integrative Therapeutics and Trace Research, or purchased by Lustig himself.
"These companies are always very generous and they supply me with thousands of dollars worth of medicine to bring," Lustig said.
As an aside, Lustig was in Kenya during the Obama inauguration ceremonies in America, and noticed an amazing contrast of technology. "We listened to the inauguration live on a villager's cell phone radio in a mud hut with other tribesman...there was no electricity or running water, but there I was listening to this very important event thousands of miles away, live." At one point, Lustig was with a tribesman who carried a cell phone in one hand and a spear in the other.
Lustig works as both a Naturopathic practitioner and an emergency medical technician in Santa Fe. For more information on donating to Nkuraiya and Ntutu's mission to offer these young girls a choice.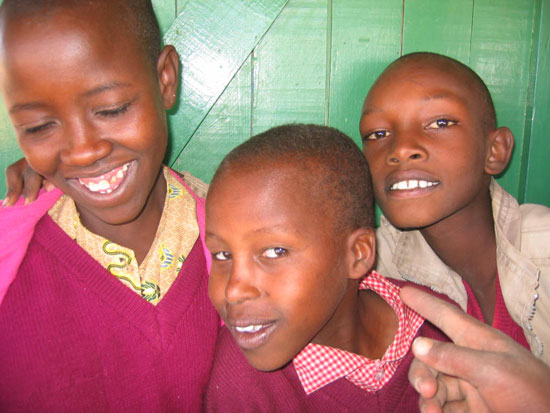 ---
Volunteer Brings Hope Worldwide
Treats Villagers of Nepal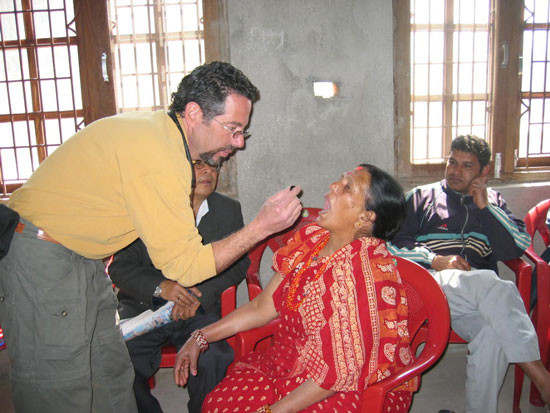 Santa Fe homeopathic doctor travels abroad offering medicine to less fortunate
Andrew Lustig didn't look like a doctor when he started his two-week trip to Nepal in March. He said he looked more like a drug trafficer.
Instead of having his bags filled with mountain climbing gear, he had them filled with more than 200 homeopathic remedies, powders, tinctures, topical ointments, 7,000 pills; all for every type of sickness and ailment.
He also had with him vitamin and mineral supplements for wellness and immune boosting
"I looked like a drug dealer going through the X-ray (machine) because I had thousands of pills and powders without boxes or labels to save weight and space," Lustig said.
Lustig didn't take the trip to scale the tallest mountain in the world; he went to tackle another mountain — the people's need for health care.
The trip to Nepal was Lustig's third to offer free naturopathic and homeopathic care to people. Although he went with an organization called Helping Hands, his trip was self-funded.
As always, he felt welcome in the country he chose because every person he visited greeted him with a bow and offered him a helping of goat and vegetables.
"They live a fairly simple life and seem, in general, to be in good spirits," Lustig said.
"If you're American and you come with medicine, they love you," Lustig said. "They believe that if you're American and you have medicine, then you can cure them."
Lustig spent two weeks in Nepal. Although he stayed in Katmandu, a driver took him the 45 minutes each way into a village called Dahrmastelli, on the outskirts of the city.
Dr.Lustig's trips abroad serve as  "life currency" for him.
DR. ANDREW LUSTIG

The farm village had no running water or electricity, but plenty of cows, chickens and goats, Lustig said.
"In a sense, I was a self-contained hospital," Lustig said. "I came with my skills, my equipment and my medicine, working out of a suitcase."
He treated men, women and children who had injuries and infections as a result of the unsanitary conditions, and the hard farm work they face daily.
"It's interesting because the health issues that face people in Third World countries are often pretty similar," Lustig said.
The people suffered headaches related to dehydration, animal and pest bites, skin rashes, bacterial infections and gastrointestinal problems related tothe polluted water.
"They dump their waste in the water, human and otherwise," Lustig said.
Because the men farm with hand-held tools, many suffered trauma to digits, arthritis and muscular injuries from the repetitive motions of cutting hay.
The drugs were donated by four companies: Heel Inc., Integrative Therapeutics Inc., Emerson Ecologics and Trace Minerals Research, for his third trip out of the country to do medical work.
Last year it was the Amazon jungle in Peru and next it is Africa, but he hasn't yet set a date.
Lustig got into homeopathic medicine after a 20-year corporate career on the East Coast. He left his job as a CEO of a television production company and pursued a career as an emergency medical
technician. While doing that, he discovered he wanted to work in an aspect of medicine that would allow him to develop a relationship with a patient that would lasts longer than the ride to the hospital.
"I wanted to have the ability to follow up and watch the progress of the patient," Lustig said.
He lives a natural and organic life, so he pursued homeopathic and naturopathic medicine.
He has his own practice in Santa Fe.
He does office visits and house calls for his patients, and follows up with them to make sure they're getting better.
When he treats people abroad, he said, it's pretty much the same — only he visits them in their thatched roof hut, but doesn't get to follow up with them.
His trips abroad offers Lustig a sense of purpose, and serves as  "life currency" for him, he said.
"I treat several hundred people every time I make these trips, and there is a great sense of satisfaction that I didn't necessarily receive working in New York for 20 years," Lustig said. "My currency now is the number of people I treat, not the money I earn..."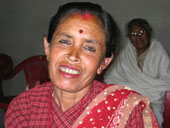 The "high" he gets from helping people abroad doesn't last as long as it used to, he said.
"I feel I need to go more often."
Although Lustig loves traveling abroad, he works in the United States as well. He volunteered as an EMT at Burning Man, an event in the middle of the Black Rock Desert of Nevada. One of his ultimate goals is to be part of New Mexico's emergency response team as an EMT, something he's still working toward.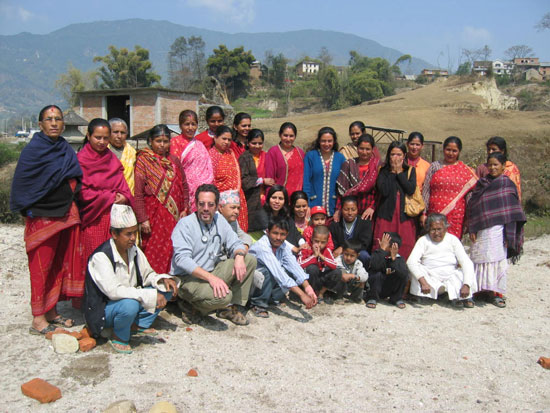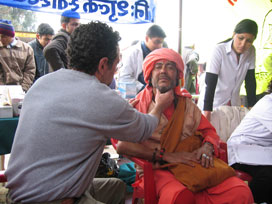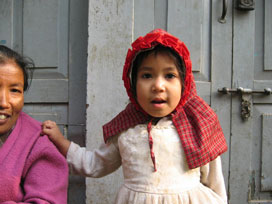 ---
Bringing Aid to the Amazon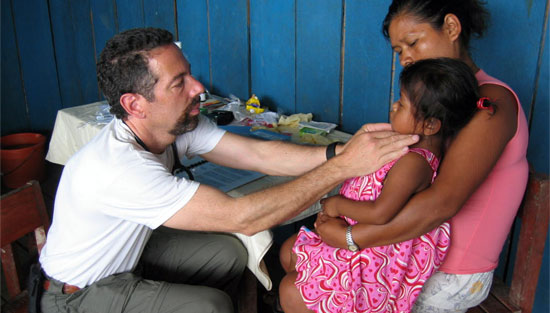 For Andrew Lustig of Santa Fe, Peru is more than a vacation destination. For the naturopathic doctor, his journey to Peru was an opportunity to help villagers who rarely receive medial treatment.
Although the doctor worked with the nonprofit organization Amazon Promise, his two-week voyage was self-funded. "Amazon Promise is run by Patty Webster along with seven other very smart women from the east and west coasts.", according to Lustig. Several homeopathic and naturopathic companies donated to Dr. Lustig's trip thousands of dollars worth of products, including Natural Health Supply of Santa Fe, Integrative Therapeutics, and the Heel corporation.
"I wanted a medical outreach program that was not trying to bring religion to these people, but simply trying to bring help and medicine," Lustig said.
About a month ago, the doctor made 24-hour journey to the Peruvian jungle, where he met the other volunteers in the program. There were three main doctors who volunteered, including a Peruvian doctor and a doctor from Albuquerque. In addition, there were four nurses, several translators and a local shaman. All in all, the medical team served close to 700 villagers during their stay.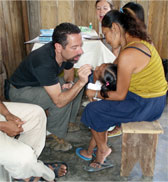 "Since most of the villages were located on the river, we would take all of our medical supplies and travel by boat," Lustig said. In one case, we carried medical equipment thru the muddy and marshy jungle
"I wanted a medical outreach program that was not trying to bring religion to these people, but simply trying to bring help and medicine."
DR. ANDREW LUSTIG
Volunteered with Amazon Promise
for almost an hour to reach a village.
The volunteers traveled to eight villages throughout their stay, setting up clinics and delivering medical supplies along the way.
"The only way to get products into the jungle was to carry them by hand," Lustig said. "I had to unwrap the medical supplies, and repackage them smaller to fit into my bags." Airport security was somewhat difficult with the amount of syringes, etc that he was carrying, as well.
Each of the clinics were held in the only concrete building in the village—the government-built schoolhouse. The benches and desks were used as examining tables and the villagers who needed medical care lined up outside the schoolhouse.
"The villagers don't wash their hands before they eat, and do not have refrigeration for the fish they catch, and don't boil their water. They also bring parasites into their stomachs," Lustig said. "We saw many patients who had distended bellies."
From parasites to missing fingers, the doctors saw various maladies among the villagers that had been caused by their way of life.
"The water in the villages is not clean, and since it is not in their culture to take the time to boil water, many of the villagers suffer from severe dehydration," Lustig said.
The doctors also saw many villagers who had cataracts caused by the strong sun near the equator.
"Even though we would supply them with sunglasses, it is not in
their custom to actually put them on," said Lustig.
"The villagers' lifestyle does not include maintaining hygiene," Lustig said.
"We went to one village where the roadway was a waterway, and the way you get to the houses is by walking along wood planks," he said. "Under the planks is an open cesspool where the villagers would throw all of their garbage and human wastes. The children of the village would swim underwater in the cesspool, but their bodies had developed immunities to the water."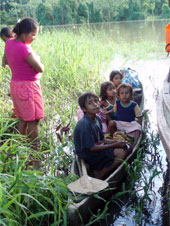 Even though the doctors spent most of their time setting up clinics and ensuring that all of the villagers who needed help received treatment, they found time to interact with the villagers in different ways. "There was one village where we played volleyball with the children," Lustig said. "They don't have electricity or running water, but they have nets and balls. We had a blast playing with them."
The villagers were grateful for the doctors, and always welcomed them when they entered the village.
"The villagers were always happy to see us," Lustig said. "The bracelet I'm wearing is made of seeds, and it is one of their many tokens of appreciation.
"They were not expecting anything, they didn't demand anything, they just appreciated and took. They just smiled, thanked us, and assisted us when we needed help."